---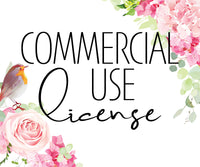 You need to purchase a license for EACH design you intend to sell!
Commercial use License - FOR THE SALE OF PHYSICAL ITEMS 
(You only need this if the design you're purchasing is personal use only, and you don't intend to sell transfers - if you intend to sell physical transfers, you need an extended license: EXTENDED LICENSE )
Please purchase this listing if you intend to produce items for sale made from my designs.
You must purchase this license BEFORE listing any of our designs on an item for sale!
Please send me a link to where the item will be sold, or if you are selling on Etsy, simply include the name of your shop!
**************************************************
1. This license grants purchaser to produce up to 1,000 small business sales commercially (wholesale or retail) using Amber Price Design's electronic cut files, digital .png designs, or any other not mentioned digital designs file (hereafter referred to as "designs" or "digital designs".
2. An Extended Commercial License must be purchased for EACH design that is used to produce up to 1,000 items.
3. Digital files and any part thereof are covered under the Digital Millennium Copyright Act of 1998 and therefore are not to be shared, sold, or given away under any circumstances.
4. YOU MAY NOT RESELL THE DESIGN FILE ITSELF.
5. You may make a stencil from a design to create a product to sell, but you may not sell the stencil itself.
6. You may not upload images of Amber Price Design's designs to "print on demand" sites such as, but not limited to, Printful, Zazzle and Café Press, tee spring, or the like.
7. You do not have to give us credit in your small business listing.
8. You must include the information of where you will be selling this design.
🚫 Sharing or reselling of the digital files is strictly prohibited.